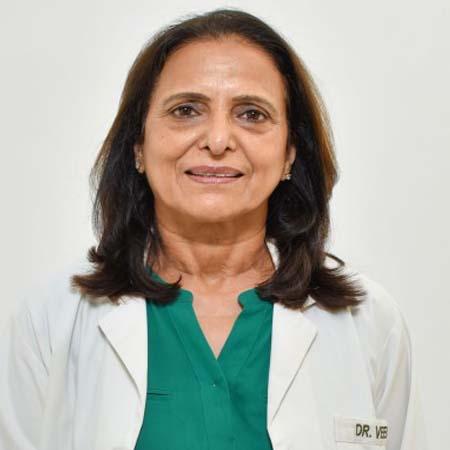 Dr. Veena Bhat
Infertility & In Vitro Fertilization (IVF)
Chairperson Emeritus
Obstetrics & Gynaecology
MBBS, MD (Obstetrics and Gynaecology), Diploma (Gynaecological Endoscopic)

Highly recommended
Over all Rating5Star Rating
Dr. Veena Bhat is a proficient Obstetrician and Gynecologist in India. She holds more than 35 years of experience. She completed her MBBS from Government Medical College, Srinagar 1977. Later, she pursued MD in Obstetrics and Gynaecology from the same college in 1985, followed by Diploma in Gynaecological Endoscopic Surgery from Staten Island University Hospital, New York in 1997. She was one of the team members to perform 1st Laparoscopic hysterectomy in India in 1990. Her Clinical interests lie in Endoscopic management in infertility, Adolescent gynecology, High-risk pregnancy, Menopausal health, and Minimal invasive surgery in Gynaecology.
Hospitals
Dr. Veena Bhat Works atArtemis Hospital
Core speciality
Endoscopic management in infertility
Adolescent gynecology
High-risk pregnancy
Menopausal health
Minimal invasive surgery in Gynaecology
Our world-class medical experts would be happy to assist you.