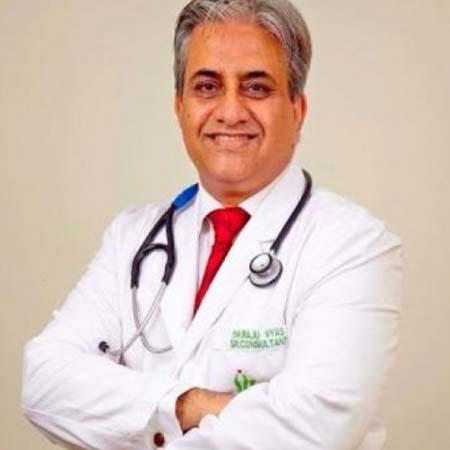 Dr. Raju Vyas
Heart & Vascular Sciences
18+ Yrs. Exp.
Medical Registration Verified
Director of Cardiovascular Surgery
Cardiothoracic & Vascular Surgery
MBBS, MS, M.Ch


Highly recommended
Dr. Raju Vyas is a famous cardiothoracic surgeon in New Delhi. He has taken a leading role in pre and post-operative care. Including beating heart bypass, on-pump CABG, valve replacement, redo CABG, redo valve replacement, arterial switch, Sennings surgery, TAPVD, Fontan, TOF, and its variations, he has had exposure to the whole range of adult, neonatal, and congenital surgical operations. In the intensive care unit (ICU), he has dealt with a variety of post-operative and surgical complications, including ventilation, low cardiac output, capillary leak syndrome, postoperative acute renal failure requiring dialysis, resistant arrhythmias, and modulating vasodilators/diuretic therapy in the postoperative period. He has a strong background in lung and vascular surgery in addition to his training in both adult and pediatric cardiothoracic surgery. Additionally, Dr. Vyas has encountered thoracic and vascular surgical crises.
Hospitals
---
Dr. Raju Vyas Works at Fortis Hospital
---
Core speciality
---
Adult CTVS (Cardiothoracic and Vascular Surgery)
Paediatric CTVS (Cardiothoracic and Vascular Surgery)
Our world-class medical experts would be happy to assist you.