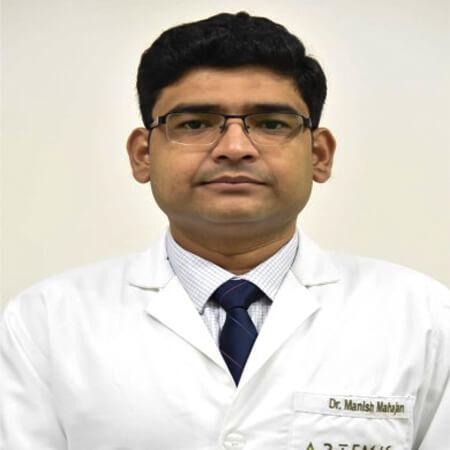 Dr. Mansih Mahajan

Sr. Consultant - Neurology & Head - Neuroimmunology
Parkinson's diseaseElectroencephalographyElectromyography
MBBS, MD, DNB

Highly recommended
Over all Rating5Star Rating
Dr. Mansih Mahajan is among the best Neurologist in India who holds the experience of more than 14 years. He completed his MBBS from Government Medical College and Hospital, Patiala, India in 2001, followed by MD from Sardar Patel Medical College, Bikaner in 2009, and DNB from National Board of Examination, New Delhi in 2013. Since May 2017, Dr. Manish Mahajan has served as Senior Consultant in Neurology and Head of Neuroimmunology at the Artemis Agrim Institute of Neurosciences. With more than five years of post-DNB clinical Neurology experience, he has previously served as a Consultant Neurologist at Max Hospital in Mohali and the Institute of Human Behaviour and Allied Sciences (IHBAS), Delhi.
Hospitals
Dr. Mansih Mahajan Works atArtemis Hospital
Core speciality
Multiple Sclerosis
Neuro-immunology
Autoimmune Neurology
Disease-Modifying Therapies (DMTs)
Consult Dr. Mansih Mahajan
Our world-class medical experts would be happy to assist you.