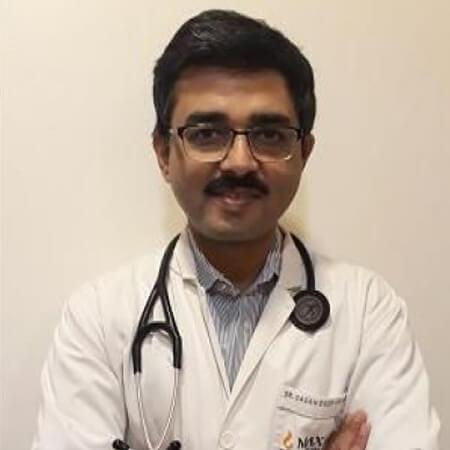 Dr. Gagan Deep Chhabra
Nephrology
20+ Yrs. Exp.
Medical Registration Verified
Principal Consultant – Nephrology
Kidney Transplant (ABO incompatible/highly sensitized/cadaveric)
MBBS, DNB (Medicine), DNB (Nephrology)


Highly recommended
Dr. Gagan Deep Chhabra is a well-known Nephrologist in India. He specializes in peritoneal dialysis (constant, intermittent, and APD), interventional nephrology (AV fistula, AV shunt, and perm-cath insertion), kidney transplantation (ABO incompatible, very sensitive, and cadaveric), and critical care nephrology (CRRT, SLED, and Immunoadsorption). He received various honors for his honest and committed work, including the AITSE award from the President of India in 1993, and the Best Mini-Oral Presentation Award from the Indian Society of Organ Transplant (ISOT) in 2012.
Hospitals
---
Dr. Gagan Deep Chhabra Works at Max Super Speciality Hospital, Saket, New Delhi
---
Core speciality
---
Interventional Nephrology (AV Fistula/AV Shunt /Perm-Cath Insertion)
Peritoneal Dialysis (Continuous/Intermittent/APD)
Critical Care Nephrology (CRRT/SLED/Immunoadsorption)
Consult Dr. Gagan Deep Chhabra
Our world-class medical experts would be happy to assist you.