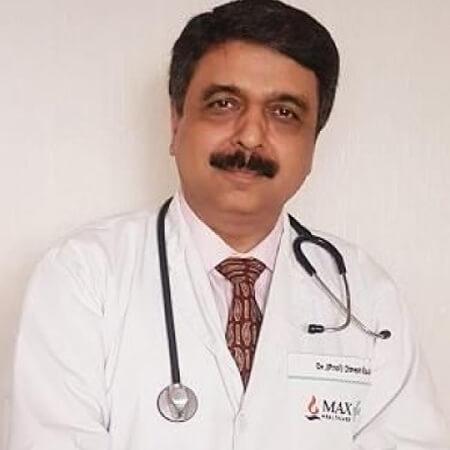 Dr. Dinesh Khullar
Nephrology
Chairman - Nephrology & Kidney Transplant
Renal Transplant Medicine & Kidney Transplant
MBBS, MD (Medicine) DM (Nephrology)

Highly recommended
Over all Rating5Star Rating
Medical Registration Verified
Dr. Dinesh Khullar is among the best Nephrologists in India. He has performed more than 5000 successful kidney transplants. This comprises some of the most difficult transplants, such as ABO-incompatible transplants, transplants performed on highly sensitized recipients, and high-risk transplants performed on patients with serious comorbidities. He may be proud of having established the first online hemodiafiltration facility in northern India for cutting-edge dialysis.
Hospitals
Dr. Dinesh Khullar Works atMax Super Speciality Hospital, Saket, New Delhi
Core speciality
Newer Dialysis Modalities & Peritoneal Dialysis
Kidney in Systemic Disorders & Diabetic Nephropathy
High-Risk Kidney Transplant patients including ABO - incompatibility & highly sensitized transplant recipients
Consult Dr. Dinesh Khullar
Our world-class medical experts would be happy to assist you.