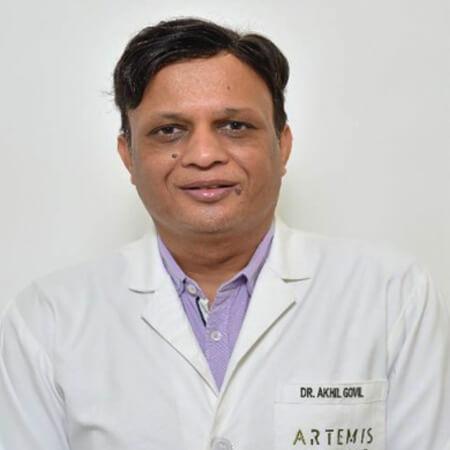 Dr. Akhil Govil
Heart & Vascular Sciences
Unit Head - Cardio Thoracic and Vascular Surgery

MBBS, MS, MCh (Thoracic and Vascular Surgery)

Highly recommended
Over all Rating5Star Rating
Dr. Akhil Govil is a prominent Cardiothoracic and vascular surgeon. He has done his MBBS from SNMC Jodhpur in 1995, MS from SMS Hospital Jaipur in 1999, followed by MCh in Thoracic and Vascular Surgery from AIIMS in 2003. He has extensive expertise doing innovative off-pump CABG surgeries such as the LIMA RIMA Y method CABG and minimally invasive CABG using a minor thoracotomy in addition to standard cardiac and thoracic procedures. Holding the experience of more than 14 years, he has participated in more than 5000 open heart surgeries and is well-versed in operations for congenital cardiac abnormalities (blue baby). He is also skilled in handling vascular and cardiothoracic emergencies.
Hospitals
Dr. Akhil Govil Works atArtemis Hospital
Core speciality
Open Heart Surgery
Mitral/Heart Valve Replacement
Our world-class medical experts would be happy to assist you.