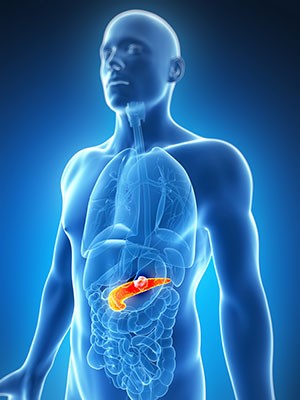 What Is Pancreatic Cancer?
Pancreatic cancer begins when abnormal cells in the pancreas grow and divide out of control and form a tumor.
The pancreas is a gland located deep in the abdomen, between the stomach and the spine. It makes enzymes that help digestion and hormones that control blood sugar levels.
Organs, like the pancreas, are made up of cells. Normally, cells divide to form new cells as the body needs them. When cells get old, they die, and new cells take their place.
Sometimes this process breaks. New cells form when the body does not need them, or old cells do not die. The extra cells may form a mass of tissue called a tumor.
Some tumors are benign. This means they are abnormal but cannot invade other parts of the body.
A malignant tumor is called cancer. The cells grow out of control and can spread to other tissues and organs.
Even when cancer spreads to other areas of the body, it is still called pancreatic cancer if that is where it started. Pancreatic cancer often spreads to the liver, abdominal wall, lungs, bones, and lymph nodes. 
Types of Pancreatic Cancer:
Pancreatic tumors are either exocrine or neuroendocrine (endocrine) tumors. This is based on the type of cell they start in. Knowing the type of tumor is important because each type acts differently and responds to different treatments.
About 93% of pancreatic cancers are exocrine tumors. The most common type of pancreatic cancer is adenocarcinoma.
About 7% of pancreatic tumors are neuroendocrine tumors (pancreatic NETs or PNETs), also called islet cell tumors. They often grow slower than exocrine tumors.
Our world-class medical experts would be happy to assist you.