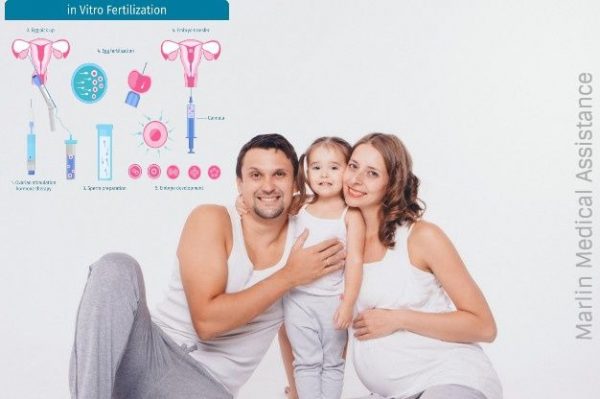 IN VITRO FERTILIZATION (IVF): WHAT IS IT?
In vitro fertilization is an assisted reproductive technology (ART) referred to as IVF. IVF is a process of fertilization by deracinating eggs and withdrawing a sperm sample and then physically fusing the egg with sperm outside the body in a test tube or petri dish.
The process involves extracting the ovum from the mother's body and letting the sperm fertilize the egg in a liquid in the laboratory. Once the egg is fertilized and the embryo culture (2-6 days) is done the fertilized zygote is placed back in its natural place, that is the mother's womb to get a successful pregnancy.
WHEN TO OPT FOR IVF?
IVF is opted for the treatment of infertility and gestational surrogacy. A fertilized egg may be infused into the surrogate's uterus and the resulting child is genetically unrelated to the surrogate. It may help the childless parent to conceive a baby encountering problems such as fallopian tube blockage in females or low sperm count in males or when the other processes have proved unsuccessful.
WHY IVF?
IVF is a highly recommended technological procedure that has proved to be the most successful among all the procedures used by far.
SUCCESS RATE:
Currently, the success rate of highly reputed IVF centers in India is 35%- 40% for early-stage zygote transfer and 50%-60% for blastocyst transfer.
MISCARRIAGE RATE:
According to research, the miscarriage rate is approximately 15%-25%.
STEPS INVOLVED IN IVF PROCEDURE:
Ovarian stimulation by hormonal injection to produce multiple eggs.
Regular monitoring of responses by ultrasound scans and blood tests.
Egg restoration under general/local anesthesia by using a needle.
The collected egg of the female and sperm of the male are collected in a petri dish or test tube and are left to fertilize inside the incubator.
Transfer of the so-formed embryo to its natural state inside the mother's womb either on day 2 or day 5.
A blood test is performed on the 15th day to assess the establishment of pregnancy. If the treatment process is successful, one or more embryos will implant and the pregnancy will occur.
SUMMARY:
In vitro fertilization takes almost 4 to 6 weeks to complete one cycle. The success rate typically is based on various factors including age, nature, health, past health, etc.
Our world-class medical experts would be happy to assist you.